RY-880 True Divide One Drag Two Handheld
Release Time:2021/9/26 15:15:27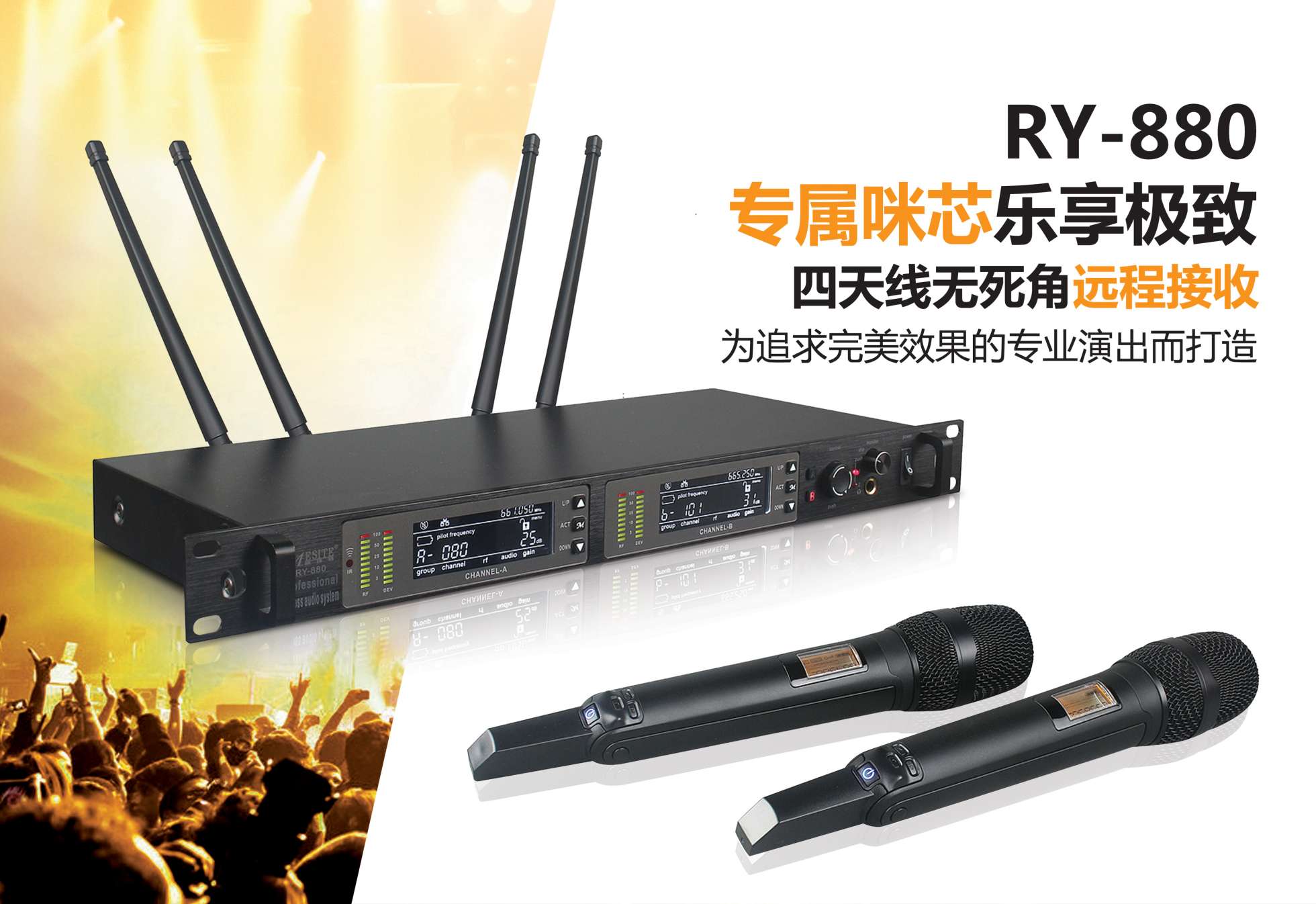 Ry-880 true diversity single send double receive one drag two wireless microphone, exclusive mi core music to enjoy the ultimate, for the pursuit of perfect effect of professional performance and build, four antennas without dead Angle, remote reception

Product features:

1, shuttle key operation knob operation is more simple, get rid of the traditional multi-key design, one key to achieve all functions, DPLL digital phase-locked loop multi-channel frequency technology



2. With the monitoring function, MONITOR the volume adjustment, press the MONITOR multi-function key (A/B signal is on to adjust the volume of the current channel, and this function key adjusts the volume of the monitoring headset from left to right. Independent volume control design, more convenient on-site sound control debugging.



3, knob AB electronic digital volume switch, simple operation, to ensure the consistency of left and right volume.



4, highly encrypted and guided stability system, to ensure that in the complex environment of the site, so that the microphone can maintain the maximum stability, perfect interpretation of the best effect. With exclusive microphone, high fidelity transmission circuit design, so that the clarity and reducibility of sound can play to the extreme, the timbre effect is more perfect.

5, the system adopts the patented digital pilot control mode,300 channels can be adjusted (channel A 1-150, channel B 151-300), the conventional 600-900 frequency band, stagging the frequency band delivery can be stacked at the same time 12 sets, multiple sets of use without frequency series, frequency loss. Especially suitable for large and small performance, theater, banquet hall, music restaurant bar, high-end home theater and other occasions.



6, with [AFS] automatic search in the actual environment clean, no interference frequency function, short press SET button, SCAN and then short press ▲ button, it will automatically search and lock in the actual working environment undisturbed channel, effectively avoid interference frequency within 200 meters lock and use.

7, for the harsh wireless environment and design, through digital audio DSP coding and decoding technology to transmit high-quality audio. HD mode transmission is completely free of compression and staining

8, the use of double ID encryption technology, anti-interference is stronger, using the latest fast audio signal transmission: 10Gbit/s, no delay transmission, to solve the delay caused by the distance, to achieve the effect of instant transmission

9, the launch hand adopts high-grade metal shell, both feel and texture, in line with the human body design, simple fashion to make your hand more appropriate.

10, the host volume: value 23 maximum, value 0 minimum, customers can according to their own equipment requirements of their own debugging.

11, host and handheld with lock function, to avoid non-staff misoperation, so that you have no worries.

12, no switch impact sound, to ensure the safety of the rear power amplifier and loudspeaker.

13, transmitter hand microphone and receiver with large LCD display, two-color screen display, before the frequency orange, after the frequency white light.



14, the use of distance: ≥ 200 meters



15, with independent balanced output (XLR Canon) and unbalanced (6.3mm socket) mixed output, rich interface to meet all kinds of equipment connection



Technical parameters:

Receiver:

Frequency range: 600-900mhz

Maximum number of channels :300

Band width :200MHz

Reception sensitivity :-105

SNR :>105dB(A) Distortion :<0.5%

Audio output level :8dBu Max

Power requirement :12-16 v dc, 500MA current, by external power supply



Hand-held transmitter:

Frequency range: 600-900mhz

Band width :200MHZ

Harmonic suppression :>55dBc

Maximum frequency offset :+_45KHZ

Frequency response: 60HZ-18khz (-3dB)

SNR :>105dB(A) Distortion :<0.5%

Output power :12dBm(16mW)/5dBm(3.2MW)

Power requirement :2 AA 1.5V alkaline or rechargeable batteries Battery life :>8H(alkaline)

Belt type transmitter: (Metal belt has its own manual frequency modulation function, volume adjustment function, automatic frequency search pilot within 150 meters)

Frequency range: 600-900mhz

Band width :200MHz

Harmonic suppression :>55dBc

Maximum frequency offset :+_48KHz

Frequency response: 60HZ-18khz (-3dB)

SNR :>105dB(A) Distortion :<0.5%

Power requirements :2 AA 1.5V alkaline or rechargeable batteries

Battery life :>8H(alkaline) distance: ≥120 meters

With customized head wear:

1. The humanized microphone design hose can adjust the Angle at will to make the bending more firm and comfortable.

2. Customized capacitive microphone, clear sound pickup, effective anti-scream.

3. The earhang is made of imported silica gel, which is more soft and comfortable to wear.