RY-660 A dragging two-true diversity handheld
Release Time:2021/9/26 15:15:12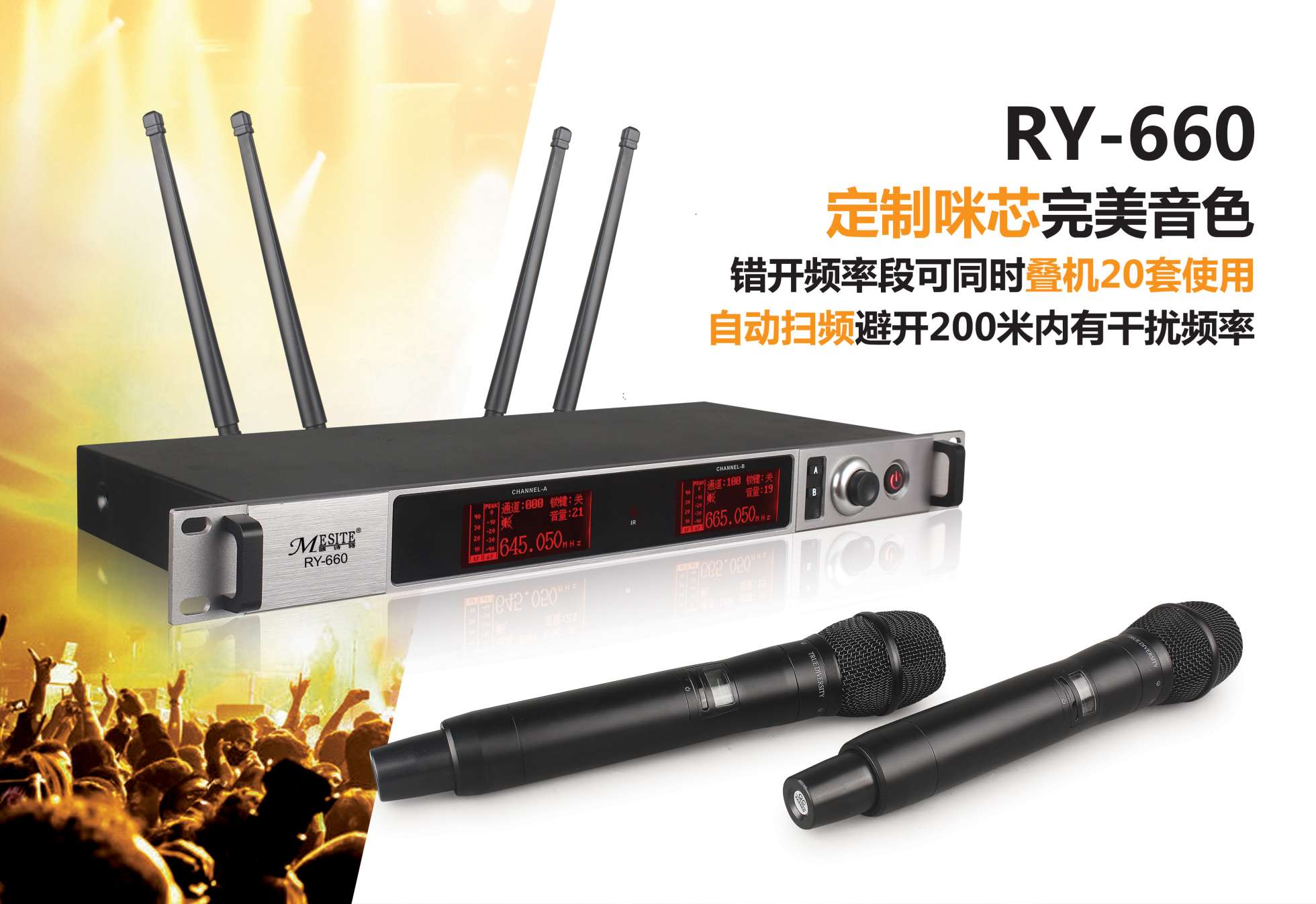 Ry-660 dot matrix screen high-end true diversity wireless toggle, automatic frequency search evaluation display, easy to master the environment frequency, receiver with Chinese and English switch, to meet the needs of different languages. Designed for large-scale high-end performances.

Product features:

1, with unique RDS digital pilot technology, can detect digital information in strong interference and very weak signal, solve the wireless microphone in a complex environment, will encounter interference, absorption, blocking, reflection and other phenomena, improve the signal stability of the microphone.

2, high brightness LCD liquid crystal display, one button frequency sweep function, automatic evaluation display (eliminate strong interference frequency, lock the clean frequency automatically save use), ensure smooth performance.



3, single knob hidden function key design, effectively avoid non-professional misadjustment of the sound effect and the original set of deviation, turn the flywheel, cursor movement, press the flywheel key can change the corresponding icon corresponding function.



4, three-button innovative panel design, fashionable, high-grade, generous, receiver display screen shows the use time of the microphone



5, the function of AB channel is adjusted separately, the operation is simple, to ensure the sound consistency of both sides of the channel.



6, specially equipped with mi heart, MDX lower bruits, the use of unique audio pressure extension technology, effectively prevent noise, high frequency clear, clean and transparent, wide frequency response, can be sweet and mellow human voice, singing speech emotional details show incisively and vividly, is the first choice for professional performance.



7, double ID encryption and guide design, host each channel has an independent ID code, with high fidelity, strong stability.



8. The precision-designed circuit system ensures the protection of intermodulation interference, and ensures the cooperative use of multiple transmitters even in the case of dense spectrum space. The system adopts the patented digital pilot control mode,300 channels can be adjusted (channel A 1-150, channel B 151-300), the conventional 600-900 frequency band, stagging the delivery of frequency band can be stacked at the same time 12 sets, multiple sets of use without cross frequency, frequency loss. Especially suitable for large-scale high-end performance, theater, banquet hall, music restaurant bar and other occasions.



9, the host, handheld are with power consumption display, the working status let you easily at a glance, SET function key can be manually: adjust frequency, volume, host lock/unlock. The host and the hand are with the lock function, to avoid non-staff misoperation, so that you have no worries.

10, the most advanced voltage boost circuit is adopted to effectively extend the battery life of 4-6 hours. The launcher holds the high-grade metal shell, which has both feel and texture, conforms to the body science appearance design, simple fashion makes your hand more firm.



11, no switch impact sound, to ensure the safety of the rear power amplifier and loudspeaker.

12, the use of distance: ≥ 200 meters



13, with independent balanced output (XLR Canon) and unbalanced (6.3mm socket) mixed output, rich interface to meet all kinds of equipment connection

Technical parameters:

Receiver:

Frequency oscillation mode: PLL PLL loop

Modulation mode: Fm

Radio frequency range: 500-980mhz

Number of channel groups: Dual channel

Number of channels :200 channels

Available bandwidth: 200MHz per channel

Frequency stability: ±0.005%

Dynamic range: > 110dB

Peak frequency deviation: ±45KHz

Audio response: 60HZ-18khz (±3dB)

Comprehensive SNR: > 105dB

Combined distortion: < 0.5%

Stable reception ≥ 200 meters



Transmitter:

Function display mode: LCD/ LIQUID crystal display

Frequency range: 500-980mhz

Band width :200MHZ

Harmonic suppression :>55dBc

Maximum frequency offset :+_48KHZ

Frequency response: 50HZ-15khz (-3dB)

Signal to noise ratio: > 105 db (A)

Distortion: < 1%

Battery requirements :AA 1.5VX2 alkaline battery

Belt type transmitter: (Metal belt has its own manual frequency modulation function, volume adjustment function, automatic frequency search pilot within 150 meters)

Frequency range: 600-900mhz

Band width :200MHz

Harmonic suppression :>55dBc

Maximum frequency offset :+_48KHz

Frequency response: 60HZ-18khz (-3dB)

SNR :>105dB(A) Distortion :<0.5%

Power requirements :2 AA 1.5V alkaline or rechargeable batteries

Battery life :>8H(alkaline) Distance: ≥ 200 Distance: ≥120 meters

With customized head wear:

1. The humanized microphone design hose can adjust the Angle at will to make the bending more firm and comfortable.

2. Customized capacitive microphone, clear sound pickup, effective anti-scream.

3. The earhang is made of imported silica gel, which is more soft and comfortable to wear.